The Seach Law Offices sponsors effort against Distracted Driving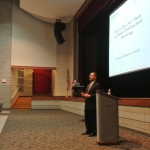 We can all be affected by distracted driving!
All too often, we at The Seach Law Offices see victims of distracted driving.
Drivers we have sued have been drunk, intoxicated by prescription drugs, texting, or playing with a dog in the car. Distracted drivers have killed innocent people, disabled bread-winners from working and supporting their families, necessitated trauma and other medical bills greater than insurance even pays for, and caused grief and suffering. We work hard for victims of distracted driving and are pleased to be able to help them in their recoveries. We are proud of our ability to help people who have been hurt through no fault of their own.
We would prefer if these folks had not been injured in the first place.
Attorney Seach recently spoke to the Senior Class of the Hazleton Area High School about distracted driving. The students care and want to help. I am proud to see high school students taking the lead, and encourage everyone in the area not to drive while distracted.
The Seach Law Offices donated $1,000 in a gift card and free limousine transportation to the Hazleton Area Senior Prom to a randomly-selected high school senior, who has pledged not to drive while distracted. In rewarding that driver, we recognized and honored all drivers who decide to pay attention and who will not text and drive.
If you have been harmed by a distracted driver, call The Seach Law Offices at 570-359-3283. If you have made a determination not to text and drive, we salute you and appreciate your care.