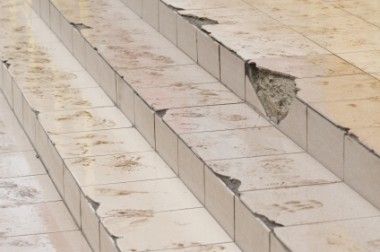 Slips and Falls
Commonly referred to as "slips and falls", these types of cases are also known as premises liability cases. They may involve dog attacks, trips and falls, and injuries from objects falling above. For example, I have successfully handled cases involving a slips and falls in cafeterias, on sidewalks and elsewhere; injuries from sliding down an amusement slide that was too steep; dog attacks and dog bites; tenants falling in a common area of an apartment complex; and injuries from snow, ice and slush falling from a gas station canopy onto a customer. They may also involve work-place incidents, such as falls from ladders or other heights.
Legally, I find the legal principles and cases that apply to this type of claim. Generally, most legal theories in this area require a showing that the property owner knew or should have known of a dangerous condition, failed to remedy it or warn of it, and a result caused harm to the injured person.
Factually, I meet with the Client to learn what happened, speak with witnesses, and gather all relevant documents, including accident reports, medical records and bills, and wage documents. As is often necessary or helpful, I arrange for a site inspection and have an investigator take photographs of the defective condition.
We represent people who have been hurt by the carelessness of others. We handle slips and falls and other premises liability matters throughout the greater Hazleton area, including all of Luzerne, Lackawanna, Monroe, Schuylkill and Carbon Counties and throughout Pennsylvania. Call The Seach Law Offices at (570)359-3283 for a free consultation.