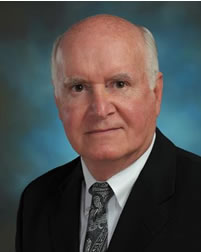 Peter J. Fagan, Of Counsel
Peter J. Fagan has joined The Seach Law Offices in an "Of Counsel" capacity in January of 2013. He has practiced law in the Greater Hazleton Area for over forty years having initially been an Associate and Partner in the Law Firm of Feldman and Ciotola from 1972 until 1981.
Thereafter, Peter has had a diverse law practice as a sole practitioner for three decades. His fields of practice include residential and commercial real estate, business law, wills, trusts and estate practice, elder law planning, municipal law, zoning and planning and family law. He currently serves as Solicitor for one of Pennsylvania's leading industrial development organizations. In that capacity he has over the last almost thirty year period been involved in multi-million dollar acquisition, development and financial projects.
Peter has been the Solicitor for the Borough of Freeland Municipal Authority since 1986 and currently represents zoning or planning entities in Sugarloaf Township, Conyngham Borough and Rush Township. He has previous experience in similar capacities in both the Borough of West Hazleton and Hazle Township.
A graduate of Lafayette College in 1969 Peter completed his study of law at Villanova University School of Law in 1972. Commissioned in the Military Police Corp of the U.S. Army Reserves, he attained the rank of Lieutenant Colonel by the time of his military retirement in 1993.
As an active member of the Hazleton Area Community, Peter is a Director on the Board of the Greater Hazleton Community Area New Development Organization and serves as President of the Hazleton Animal Shelter Association, Inc. He has previously held the positions of Board President and Director for both the Greater Hazleton Chamber of Commerce and the Hazleton YMCA.
Peter is admitted to the Supreme Court of Pennsylvania and the United States Tax Court. He maintains an active membership in the Pennsylvania Bar Association, the Wilkes-Barre Law and Library Association and the Lower Luzerne County Bar Association, having served as President of the latter from 2008 until 2010.